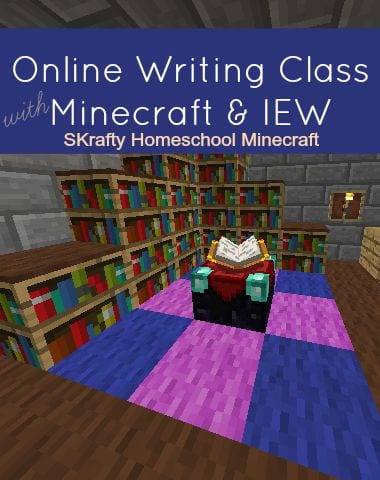 It's writing time!  Please join us for a fun-filled writing class with live classes, grading, and some Minecraft.
This is an introductory course to the IEW method for students in grades 4–12 with little or no IEW writing. This four-week course will teach key word outlines and stylistic techniques. Students will use these skills while learning note taking and essay writing models. Students will need to be able to use a computer and also have parent help if needed. This class is a four week "boot camp" type class intended to give the students and parents some familiarity with the method before taking a full course. This summer class may also be good for students who are struggling with writing. It is also helpful for Classical Conversation students who are entering Essentials in the fall.
We will have a live class each week, assignments, and of course Minecraft activities to go along with it.  The live class will be recorded to watch later.  These classes will be taught using methodology by The Institute for Excellence in Writing by teachers certified to teach with this method.  You can read more about this method below:
Institute for Excellence in Writing
Following are the details:
NOTE:  Due to the grading and teaching time involved these classes have limited space.  Each Student needs to have access to an email account in order to submit papers through Google Docs.
Required Textbooks (Must be purchased separately):
No Textbook Required for this summer class.
WHEN :
Live Classes begin the week of Wednesday, July 12th and end the week of Wednesday, August 2nd.
Class Times: 
Grades 4th – 6th Wednesdays at 12:00 – 1:00 pm CST
Grades 7th – 12th Wednesdays at 1:30 – 2:30 pm CST
Purchase:
NOTE:  Classes must have a minimum number of 8 students to "make" the class.  These classes are limited.
Live weekly Class with in game assignments (4 Weeks) – $67.00
Grades 4th – 6th: 
Grades 7th – 12th
**IEW Writing classes are not included in the EDU subscription, but subscribers get a significant discount.  ($27 cost for this summer class instead of $67).  Please email support@SKrafty.com to receive a subscriber code for this class.
WHERE: SKrafty Homeschool Minecraft Server (Not playing on SKrafty yet?  Get Whitelisted here)
WHAT:
We will have the following:
Weekly teacher led live class and textbook assignments.  Classes will meet in a virtual classroom with Adobe Connect in which the teacher will present the lesson and interact with students.
Students will log into online class portal for weekly assignments.
Weekly Minecraft Project.
Papers and assignments will be graded in the writing classes.
In – Game rewards for completing course milestones.
Requirements and Prerequisites:
Premium Minecraft Account and Minecraft for PC or MAC
Minecraft account must be whitelisted on SKrafty Homeschool Minecraft Server.  Get Whitelisted here.
Required Textbook see class descriptions: None for this class
Student should know the basics of building in Minecraft, and use proper Minecraft ettiquette (no griefing, etc.)
Students will be able to log in and begin on Wednesday July 12th, 2017.